Boss Insights is thrilled to be chosen by FinXTech to be included within their vendor directory for banks. 
Boss Insights API platform enables banks to digitize lending, cross-selling, and grow business relationships. The platform increases personalized sales opportunities and accelerates business lending from months to minutes. 
The rapid digitization within the lending industry, due to the recent events of 2020, has accelerated the adoption of FinTech.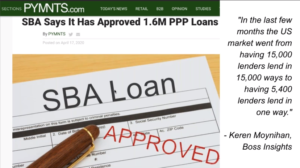 Digitization was always important, what changed in 2020, is that it's become imperative. It's now part of business continuity, it's no longer a nice to have, it's a need to have. 
Another trend on the rise is the increase in business customer expectations. There was a time when lenders could expect businesses to come to them with specific asks. That time has passed. With the functionality of big tech players like Amazon, businesses expect personalization and instant gratification. The growing divide between lenders' service levels and businesses' expectations continues to grow. While 61% of businesses support sharing data to their benefit, and Boss Insights can provide the ability to increase revenue per client up to 30%, only 35% of lenders are in the process of digitization.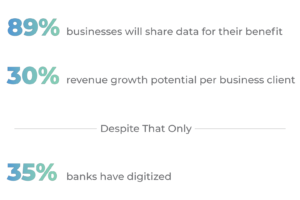 Boss Insights API-platform bridges this digitization divide. The platform will accelerate lending and other sales opportunities from months to minutes. It was adopted by lenders before 2020, and then, during the height of PPP, Boss Insights' platform stood apart from competition offering instant forgiveness calculation in 3 steps. The program has changed many times and with the power of an API hub, Boss Insights' platform adjusts automatically without any work from borrowers or lenders. With anything short of true data automation, changes will lead to more work. The difference with API hub is that the work is done once. 
The road to digitization is in progress but there is a lot of work left to do. Boss Insights stands behind banks by offering cost-effective and efficient ways to digitize and get ahead of the market. By collaborating with firms like Oracle, and financial institutions, Boss Insights experienced closing two-year sales cycles in under two weeks. Publications such as Forbes, The American Bankers Association, Payments Journal, and Toolbox also supported and covered our solution, bringing in more exposure. By collaborating, banks are able to support their business clients, the economic engine of the future. 
For more information visit bossinsights.com.
To Book a Demo Click Here
For recent media and press visit our Blog
About FinXTech
FinXTech is a resource that allows banks in the U.S. to discover potential technology partners and solutions. It brings together top decision-makers from both traditional financial companies and fintechs through their annual conferences, editorial content and online resources. Each of their events shine light on how partnerships and collaboration are generating growth, and their thought leadership content provides their audience up-to-date information on the latest innovations and opportunities in financial technology.