Boss Insights provides the key features that matter most to organizations sharing financial data. Data is made available in major categories including Accounting, Payroll, Commerce, Banking and more. When you access a specific category of data, you get access to all APIs that provide that type of data
Standardized Data
Remove the complexity of having to manage the multitude of formats and document structures your customers provide. Boss Insights will map and normalize the data. Access raw audit data too!
Standardized Data
UNIVERSAL
Stay In Sync
Keep everyone on the same financial page. Connect your LOS or CRM system and use Boss Insights to create a single source of truth for your customer data. Developers can connect directly to our API for more bespoke solutions.
Various Output Formats
Within the portal, data can be downloaded in formats including PDF and Excel. Alternatively, developers can use our REST API or an encrypted SQL connection.
Various Output Formats
FLEXIBLE
Encrypted & Private
Advanced access controls enable data to only be shared with those who need to know. A complete audit log is kept and historical changes preserved so you know who did what and when.
Encrypted & Private
SECURE
Get a shared view of your customers' financial data when they connect their business apps and upload documents
Examples of data categories and types of data you can access from your customers
Get A Complete Picture

Financial ratios – DSCR, fixed charge coverage ratio
Financial plans – Revenue-to-plan, OPEX-to-plan
Financial statements – Balance sheet, profit & loss statement
AR/AP – Aged receivables, credits & offsets
Transactions – A detailed general ledger
Examples of Accounting data in Excel format:
Get 3rd Party Verified Data
Customers

Shipments

Sales/Orders

Balances

Product inventory

Subscriptions (including recurring payments)
Payment methods
Examples of Commerce data in Excel format:
View Transactions & Payments
Transactions

Account balances

Account types
Account information
Examples of Banking data in Excel format:
Get Alternative Data
Staff roles

Payroll including benefits and taxes

Organization chart

Pay statements
Example of Payroll data in Excel format:
Get Additional Ways To View A Business
Sales, Marketing & Analytics 
Sales pipeline stages, value and probability of close

Sales rep attribution

Time to close

Website traffic

Advertising click through rates and CPA

Newsletter subscribers

Corporate social media – sentiment and traffic analysis
Operations & Support
Queue depth and response time

Support concentration

Contact handle time and time to resolution

Project task information and associated tagging

Team workload

Key dates

Infrastructure spend

Deployment frequency

Service levels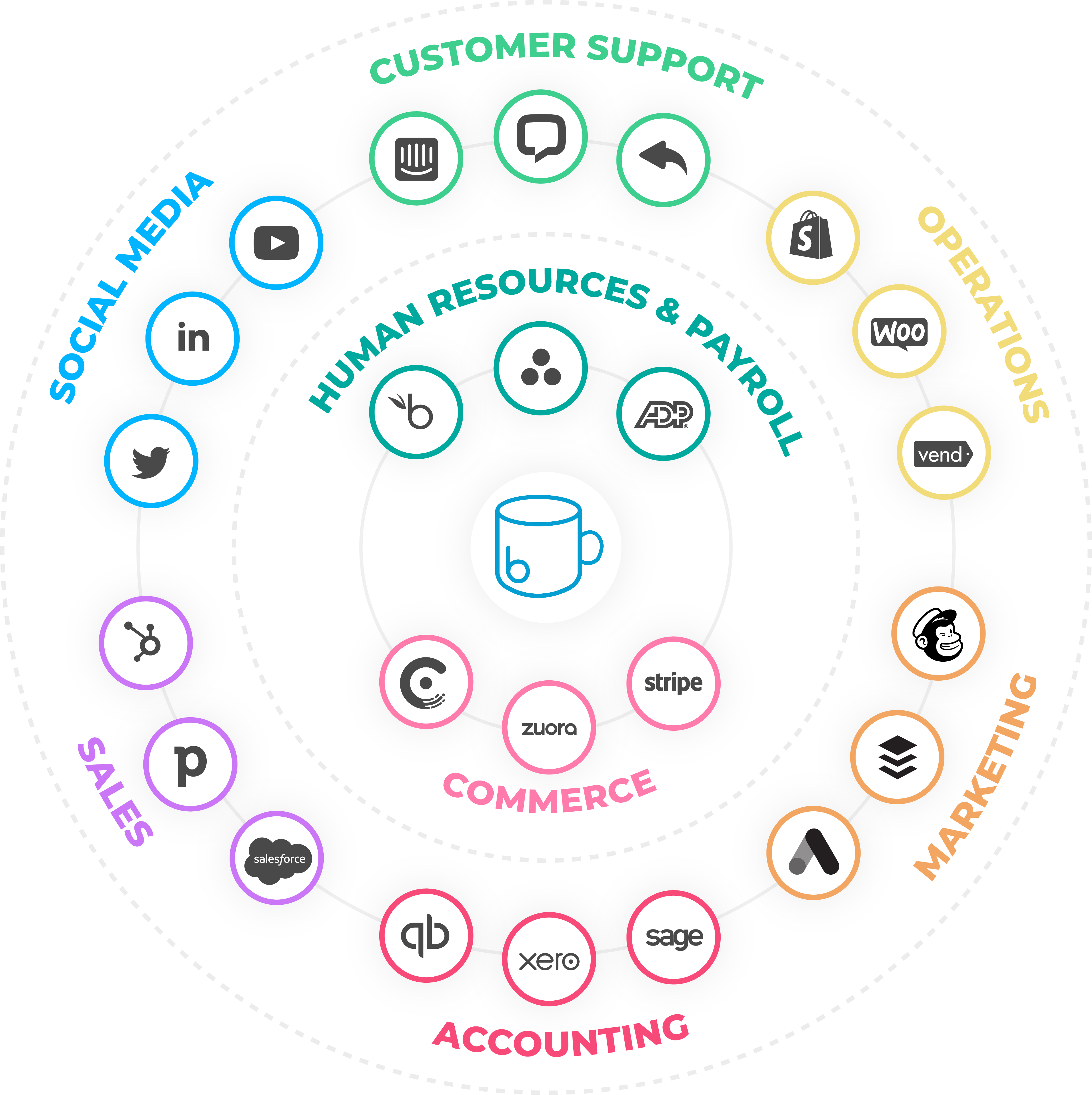 Boss Data
Connect seamlessly to the global leading number of SMB, SME and Commercial data sources using our single API so you can deliver a faster and more convenient customer experience
Want To Get Started?
Or got a question? Tell us how we can help.