Instant Insights From Financial Data
Track, visualize & manage money-in & money-out with an automated financial dashboard & global leading access to financial data. Generate cash forecasts with a 360-degree view of your SMB & Commercial business' financial health.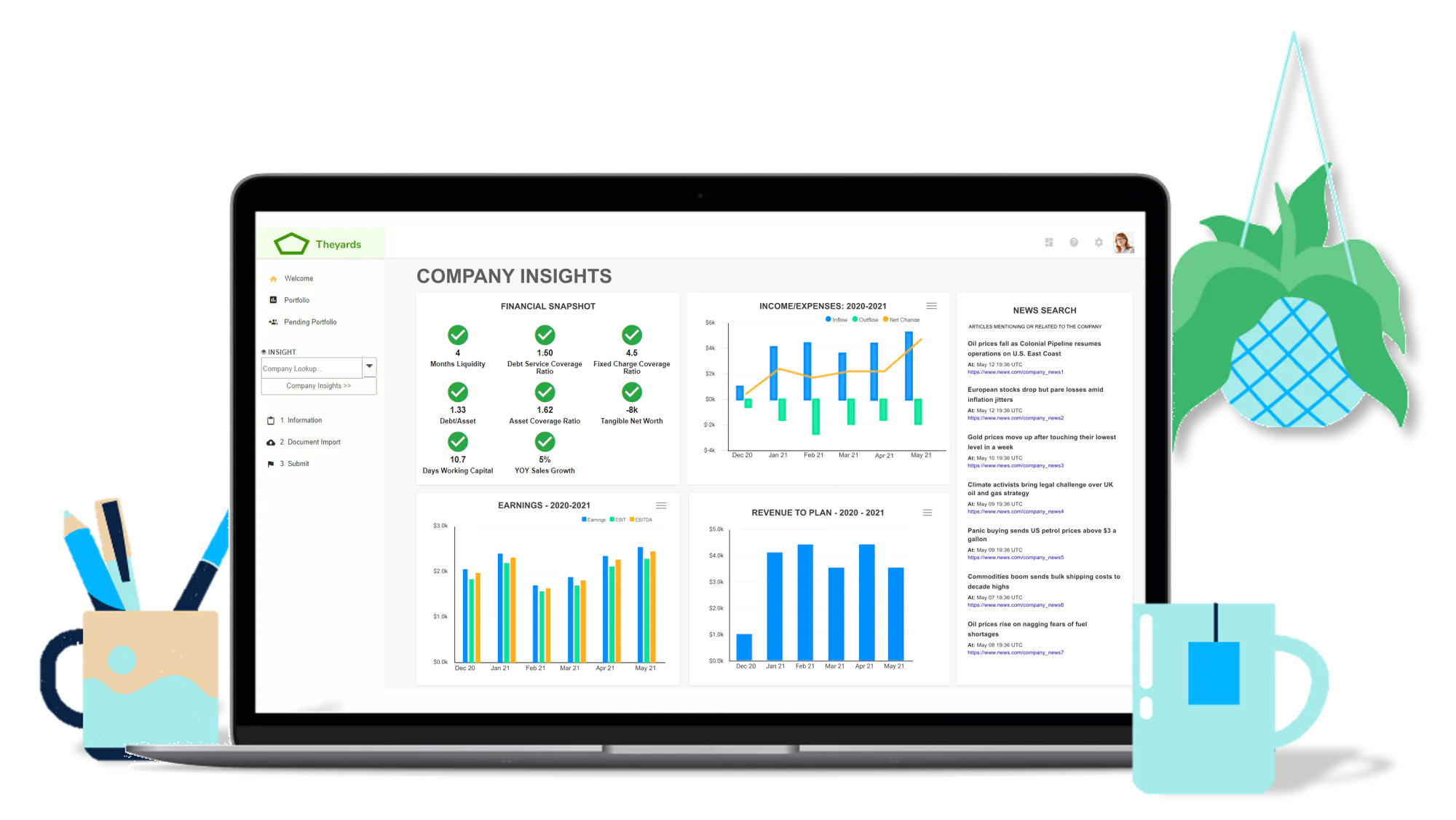 Calculated Ratios & Analysis
With global leading access to SMB & Commercial accounting, banking, commerce/sales & payroll data in market, gain a 360-degree view of your borrowers' financial health with insights & ratios for informed decision-making through a single API.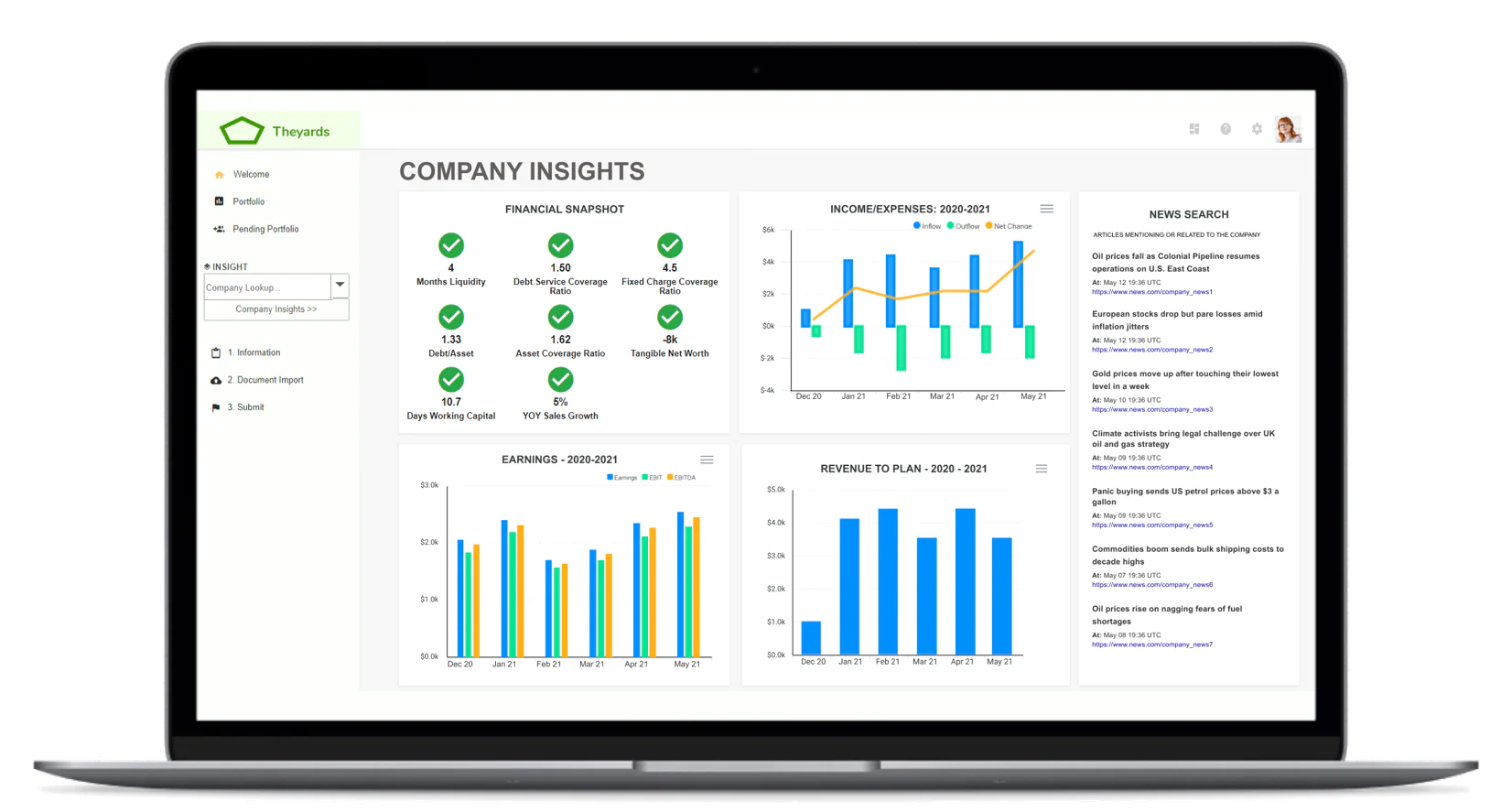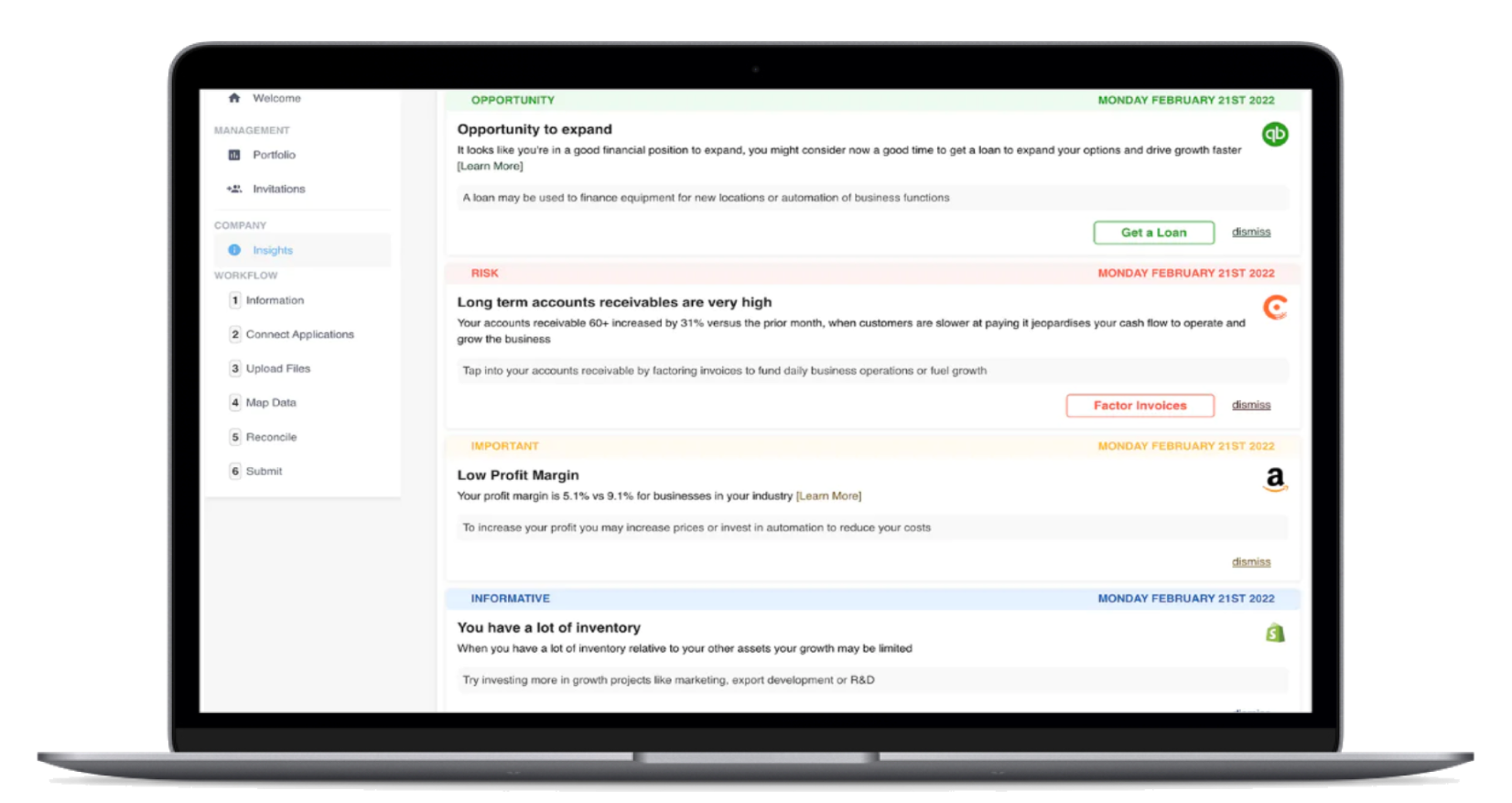 Stand Out From Competitors with Personalized Offerings 
With a comprehensive view of company performance, stakeholders & internal teams get crucial insights, trends, & opportunities to make better business decisions & real-time personalized product offerings at exactly the right time with CFO-in-a-Box.
Predict Cash Positions with Accounting & Sales Information
Give businesses cash flow forecasts, benchmarking & personalized data-driven insights. Enhance financial forecasting by integrating configurable ratios & scoring to show business health including revenue, debt, liquidity & customer concentration.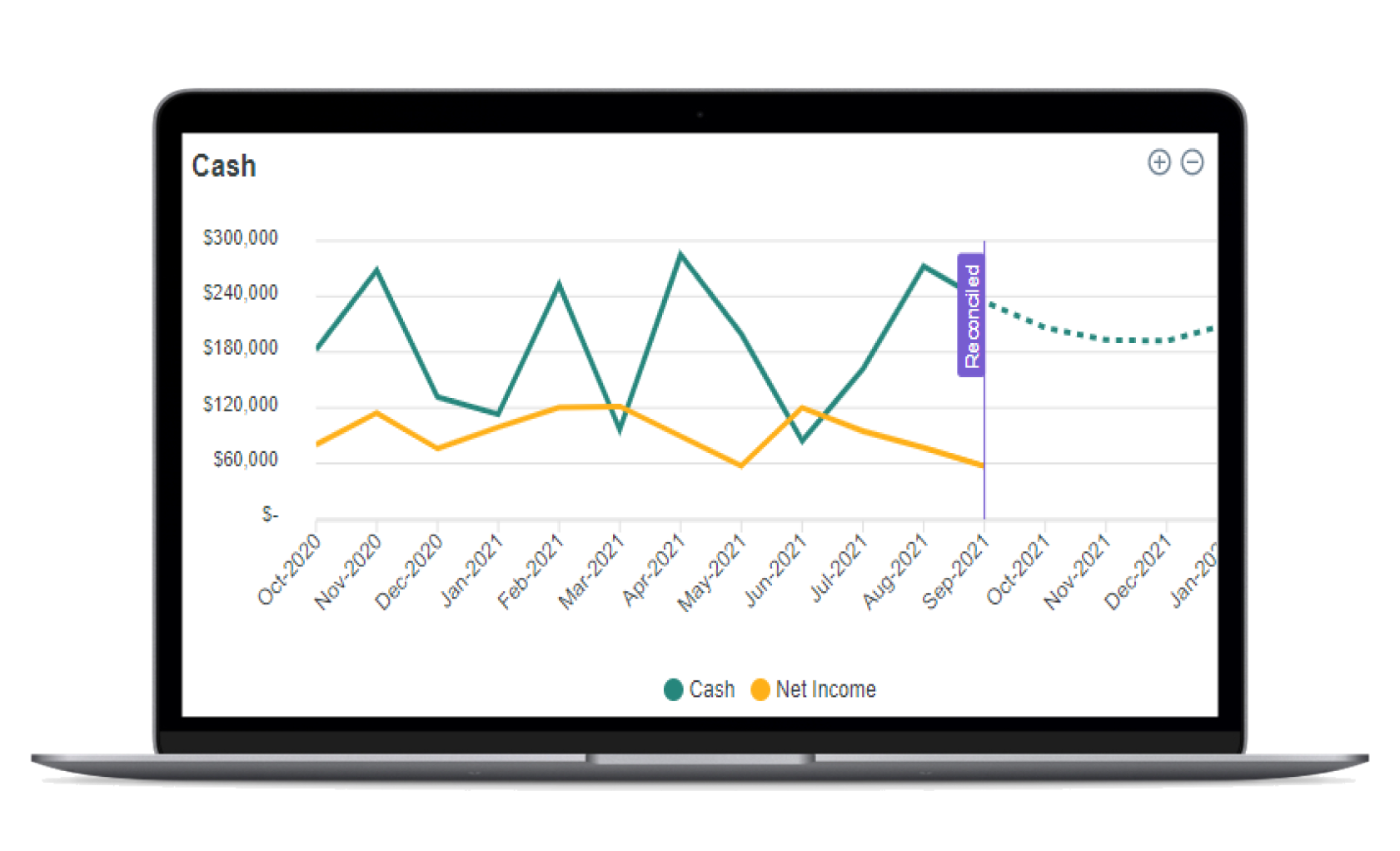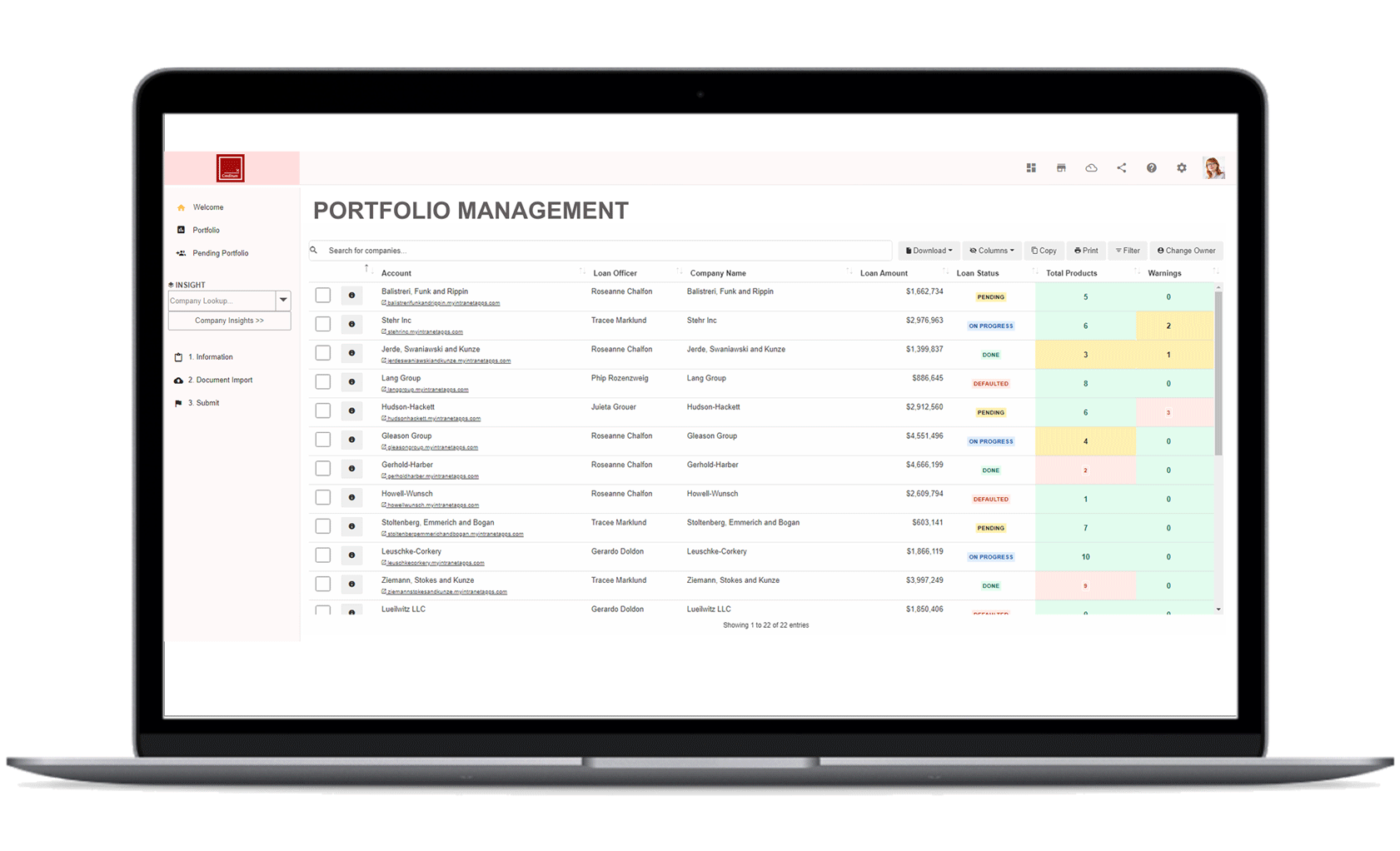 Portfolio Management
Get a holistic view of all the borrowers you manage in your portfolio, whether it's a merchant cash advance, revenue-based or bridge financing, or microloan.
Client & Partner Testimonials
"We gained 2-3 years of new client relationships in 30-60 days"
Dustin Phillips, Chief Lending Officer
"Boss Insights dramatically simplifies the work of loan decisioning, servicing & fraud prevention"
Sanjay Matthew, Head Of Fintech Strategy
"Boss Insights allows Carver to provide customers with the highest quality of service"
Richard Muskus, SVP & CRO
"Boss Insights' data platform allows us to provide value beyond financing and mentorship to the ecosystem"
"A seamless solution to gather real-time information of business members"
Curtis Anderson, VP Business Lending
"Boss Insights' cutting-edge tech empowered us to offer a seamless experience for business owners"
John Handmaker, Chief SBA Lending Officer
"Boss Insights is incredibly responsive, solution orientated and grew the platform as our requirements expanded."
"Amazing digital lending platform, serves SMBs and Commercial Businesses - great access to real time accounting, commerce/sales and banking data"
Want To Get Started?
Or got a question? Tell us how we can help.