Data-Driven Actions with Boss Decision & Monitor
A white labeled digital platform connecting financial service providers & business customers. Collects real-time information, automates scoring & provides a client & portfolio view for 51% faster decisions, 100% automated scoring, 5x faster monitoring/renewals & 60% cost savings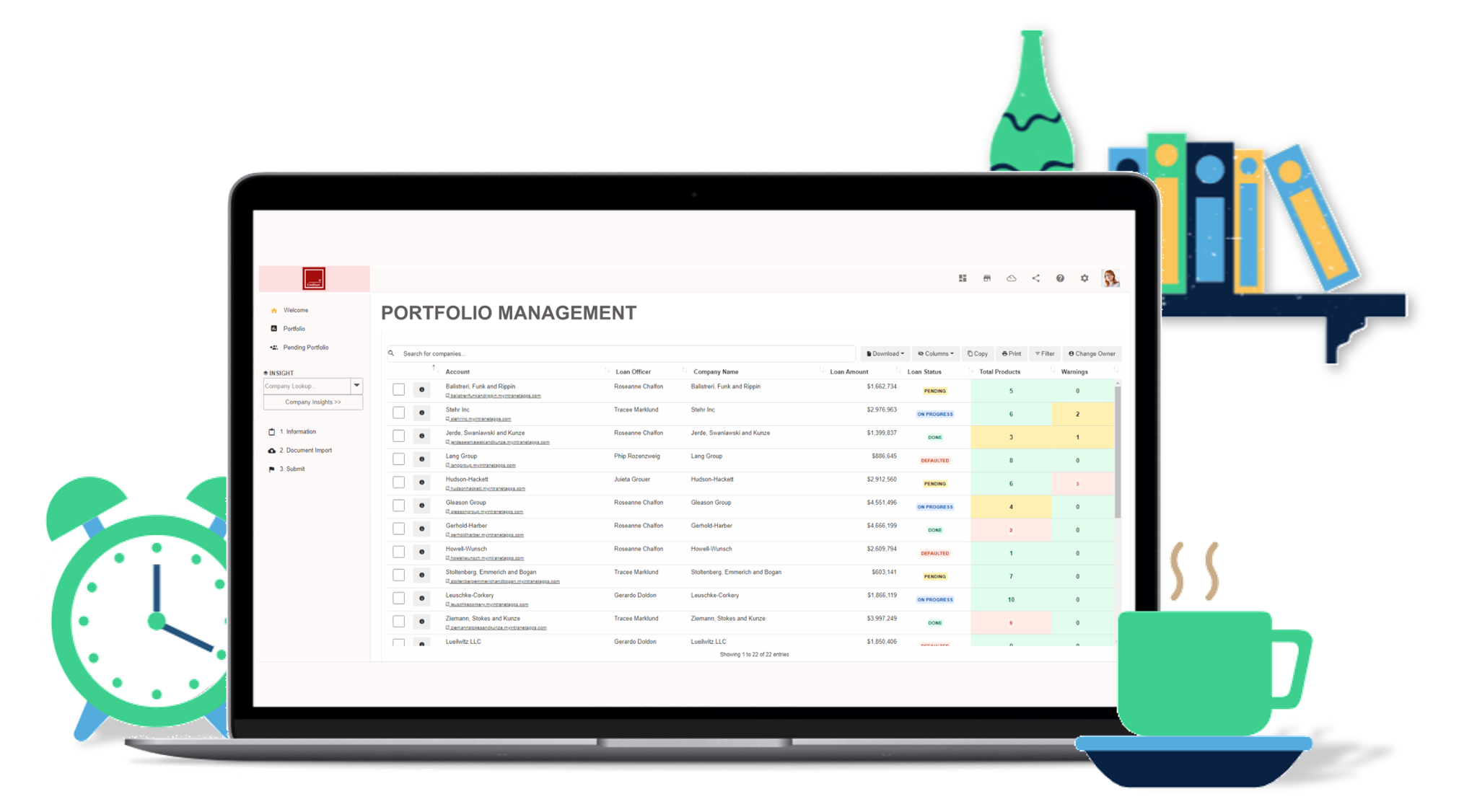 Pricing
Flexible pricing that matches your business needs
Borrower & Lender Portals
Intuitive and easy-to-use portals that provide best-in-class user experience for your borrowers & loan officers.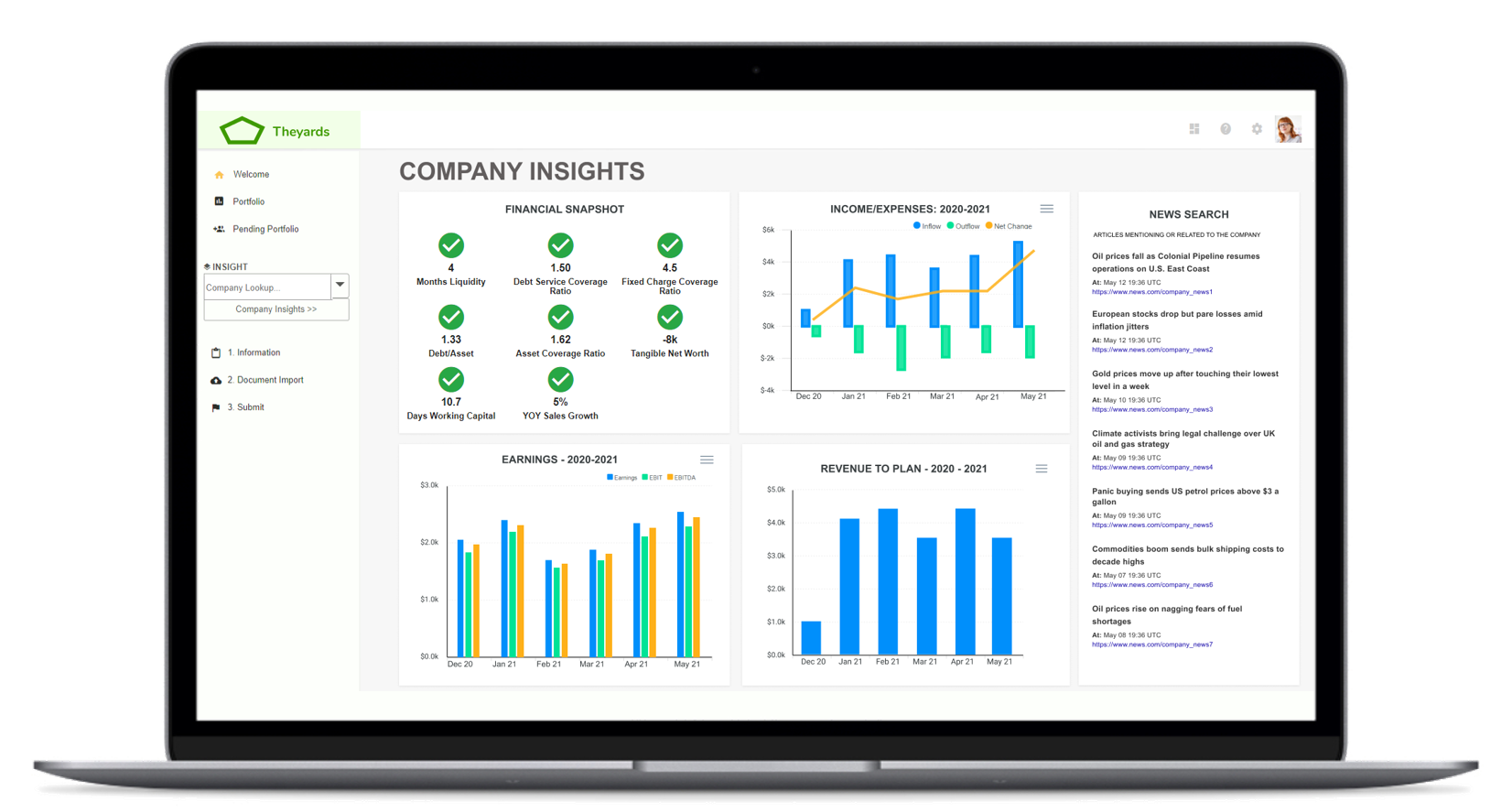 Real-Time Insights & Lending Ratios
Gain 360 degree view of your borrowers' financial health with insights & ratios for informed decision making & loan monitoring. Get access to the broadest coverage of accounting, banking, commerce/sales, payroll data & more.
Portfolio Management & Insights
With a comprehensive view of company performance, stakeholders & internal teams get crucial insights, trends, & opportunities to make better business decisions – real time alerts for personalized product offerings and warning signals.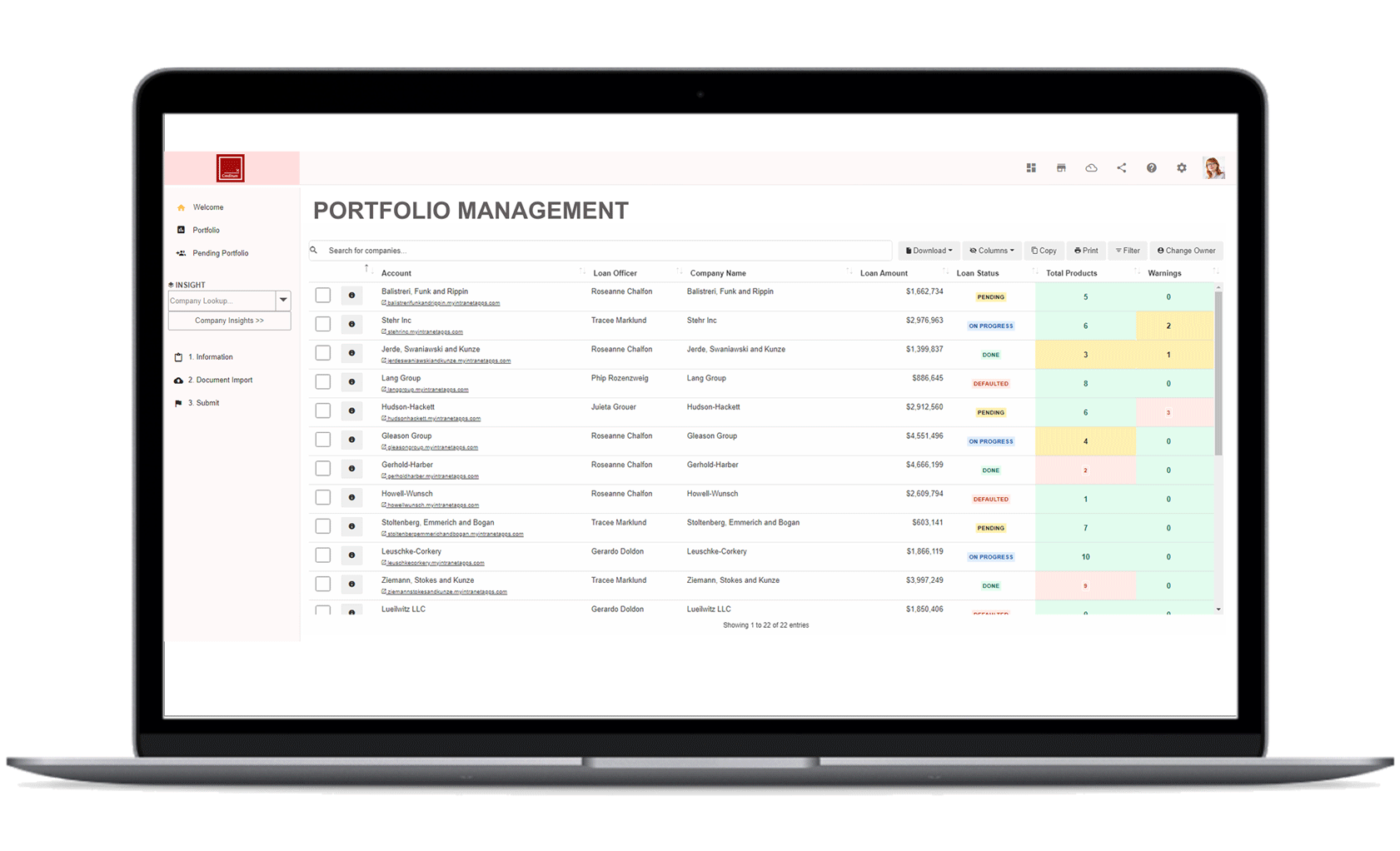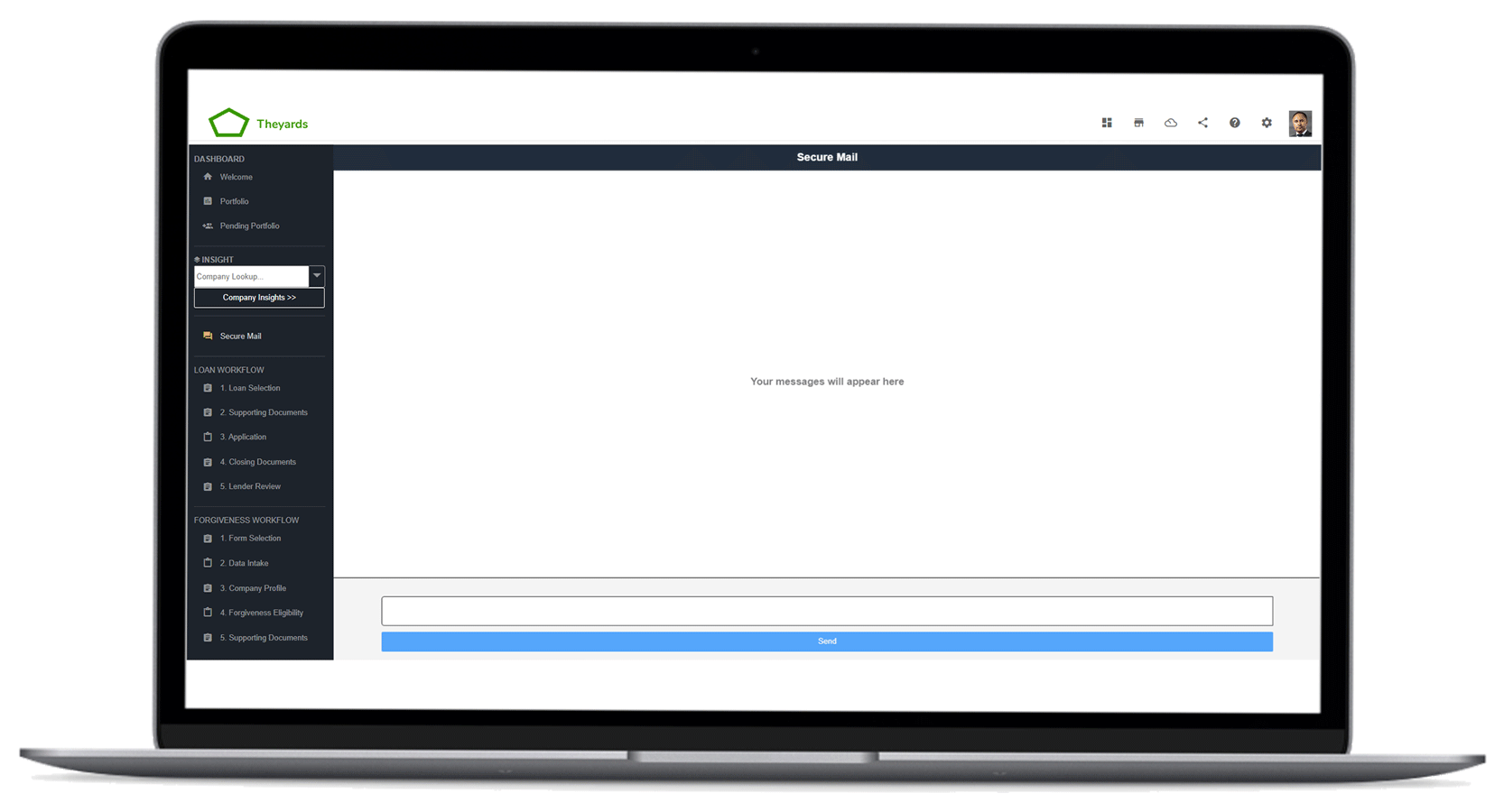 SecureMail & eSign
Enhance your lending monitoring process with additional features
SecureMail
Communicate securely with your borrowers & access all application-related messages in one spot
eSign
Sign your documents securely & easily
Launch New Scoring Models
Access financial models in real-time & predict outcomes with Decision & Monitor. Discover new business opportunities, audiences & avoid potential losses with financial data.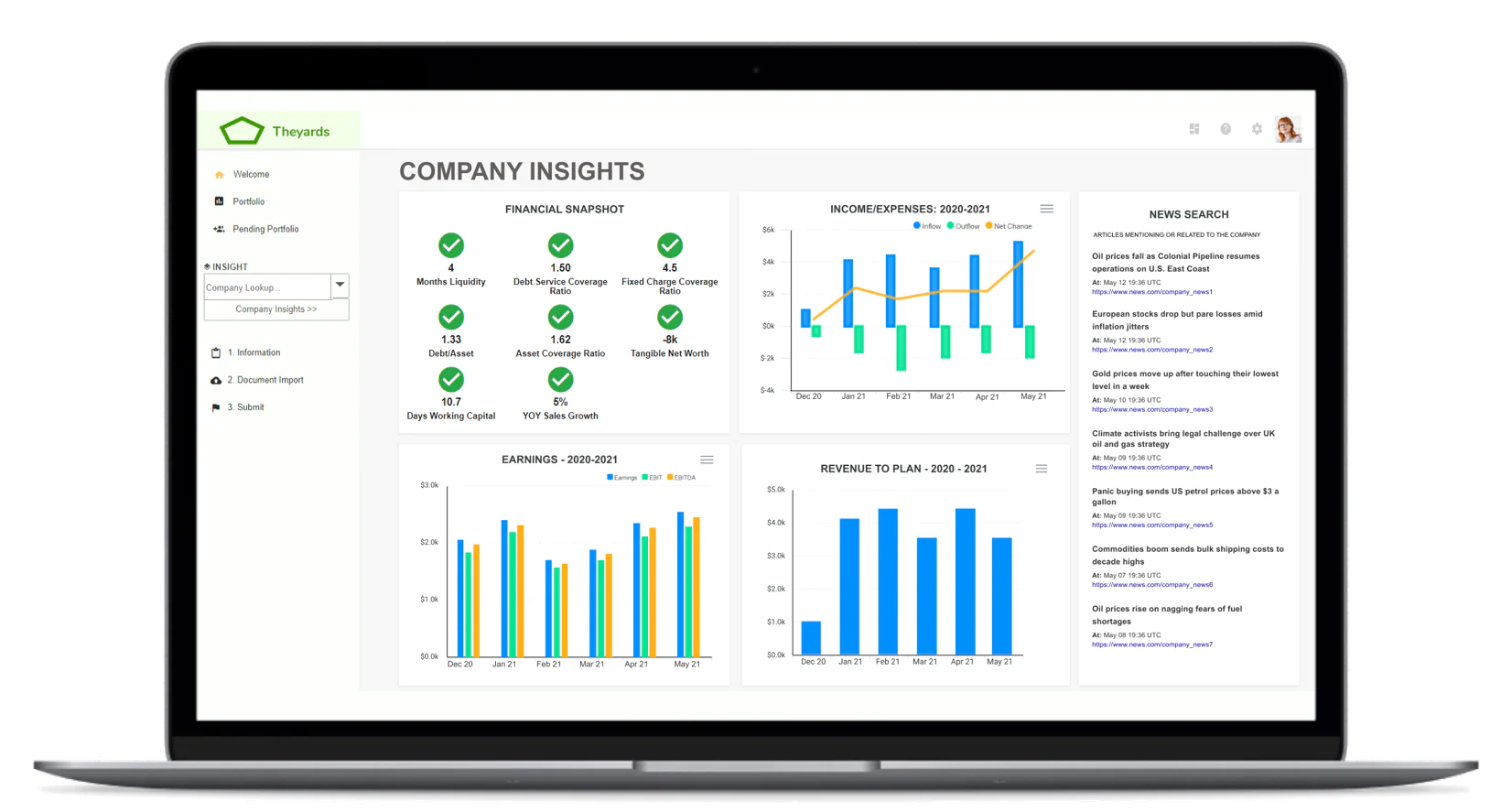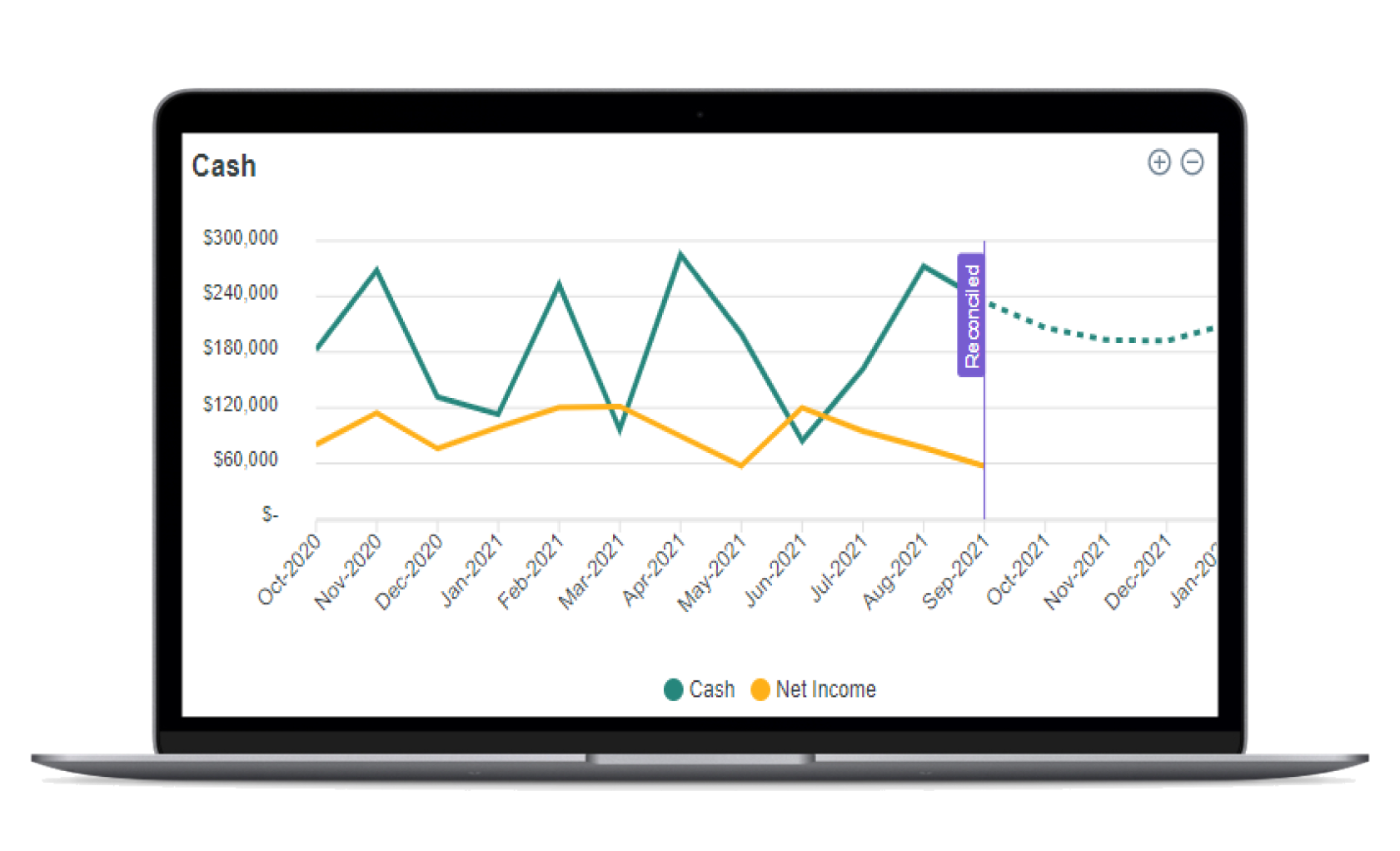 Cash Flow Insights 
With real-time accounting data insights added to your platform, help clients quickly understand potential cash flow with scenarios, projection comparisons & cash forecasts to keep their business running smoothly.
Self Service & Personalized Offerings

See business customers' financial information & calculate ratios in a single platform anytime, anywhere with CFO-in-a-Box. Making daily operating activities like loans, payments & personalized product recommendations seamless.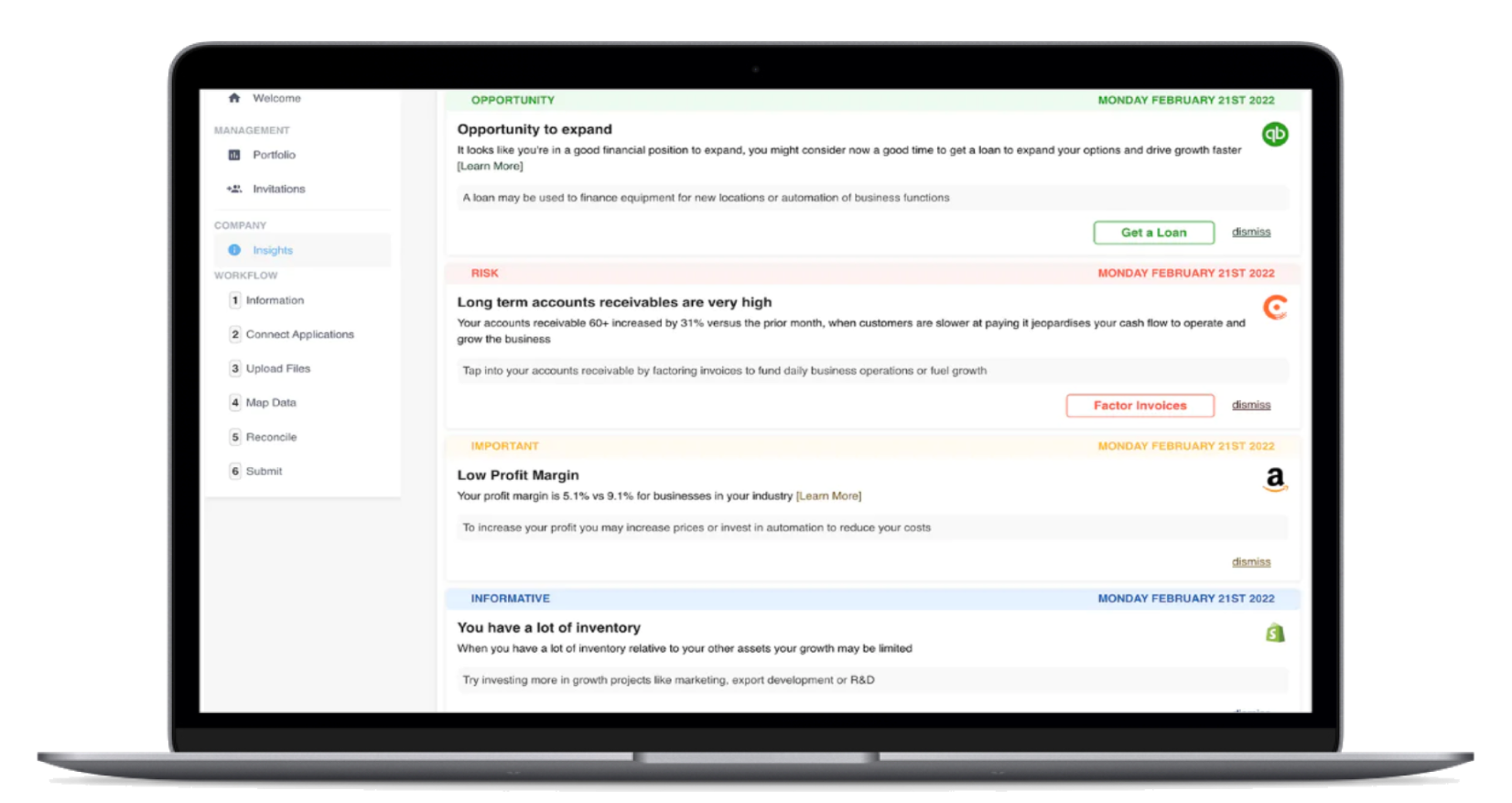 Boss Decision & Monitor Users
Fintechs, private lenders, financial institutions, payment companies & brokers gain real-time financial insights to proactively recommend products and services to delight borrowers
Boss Decision & Monitor Benefits


Best Customer Experience
Give personalized offers based on your customers' financial health 

Fully Digital
Businesses complete the process online
Client & Partner Testimonials
"We gained 2-3 years of new client relationships in 30-60 days"
Dustin Phillips, Chief Lending Officer
"Boss Insights dramatically simplifies the work of loan decisioning, servicing & fraud prevention"
Sanjay Matthew, Head Of Fintech Strategy
"Boss Insights allows Carver to provide customers with the highest quality of service"
Richard Muskus, SVP & CRO
"Boss Insights' data platform allows us to provide value beyond financing and mentorship to the ecosystem"
"A seamless solution to gather real-time information of business members"
Curtis Anderson, VP Business Lending
"Boss Insights' cutting-edge tech empowered us to offer a seamless experience for business owners"
John Handmaker, Chief SBA Lending Officer
"Boss Insights is incredibly responsive, solution orientated and grew the platform as our requirements expanded."
"Amazing digital lending platform, serves SMBs and Commercial Businesses - great access to real time accounting, commerce/sales and banking data"
Want To Get Started?
Or got a question? Tell us how we can help.