The use of embedded finance, cloud-based accounting and commerce systems by businesses is on the rise. Cloud-based accounting software usage like Quickbooks, Sage and Xero is expected to grow by 64% in 2026. According to Retail Consulting Partners, about 52% of companies have fully transitioned to using cloud commerce solutions like Stripe and Shopify, and over 40% of companies plan to move toward this transition.
What is cloud accounting?
Cloud accounting software is online cloud-based software that allows businesses to digitize and store their accounting in an encrypted cloud system. With cloud accounting, businesses scan and digitally store documents such as invoices, bills, tax forms, bank statements, and more. Cloud accounting software like Quickbooks, Xero, and Sage help businesses track financial data such as transactions and expenses in real-time.
What is cloud commerce?
Cloud commerce is online cloud-based software that tracks business transactions, revenue, chargebacks, and more. It also helps businesses prepare their state-level and local sales taxes calculations. Sales platforms like Square, Amazon, and Stripe allow businesses to easily track their financial data in a cloud-based system. They are easier to navigate and record data from than manually created spreadsheets and documents.
Cloud accounting and commerce systems allow businesses to track financial information with real-time updates on transactions, cash flow, revenue, and more. As a fintech, private lender and financial institution, gaining access to this information gives you a real-time understanding of your business customers' needs so you can delight them.
However, collecting your business customers' financial data is manual, time consuming and tedious. The process often requires businesses to collect their own data from multiple sources and platforms, and send it to you through the mail or email. This leaves room for error, lost mail, and other factors that could hinder excellent customer experience.
When deciding on a means to collect your business customers' data from cloud accounting and ecommerce systems, it is important to determine whether it is more effective to build or buy the data integration. If you need help deciding which option will help your business more, consider the following questions.
If we're all in agreement that more information on your business customers puts you in a better competitive position to delight them, the next question is: Should you build this capability or buy it?
Here's a guide to help you decide.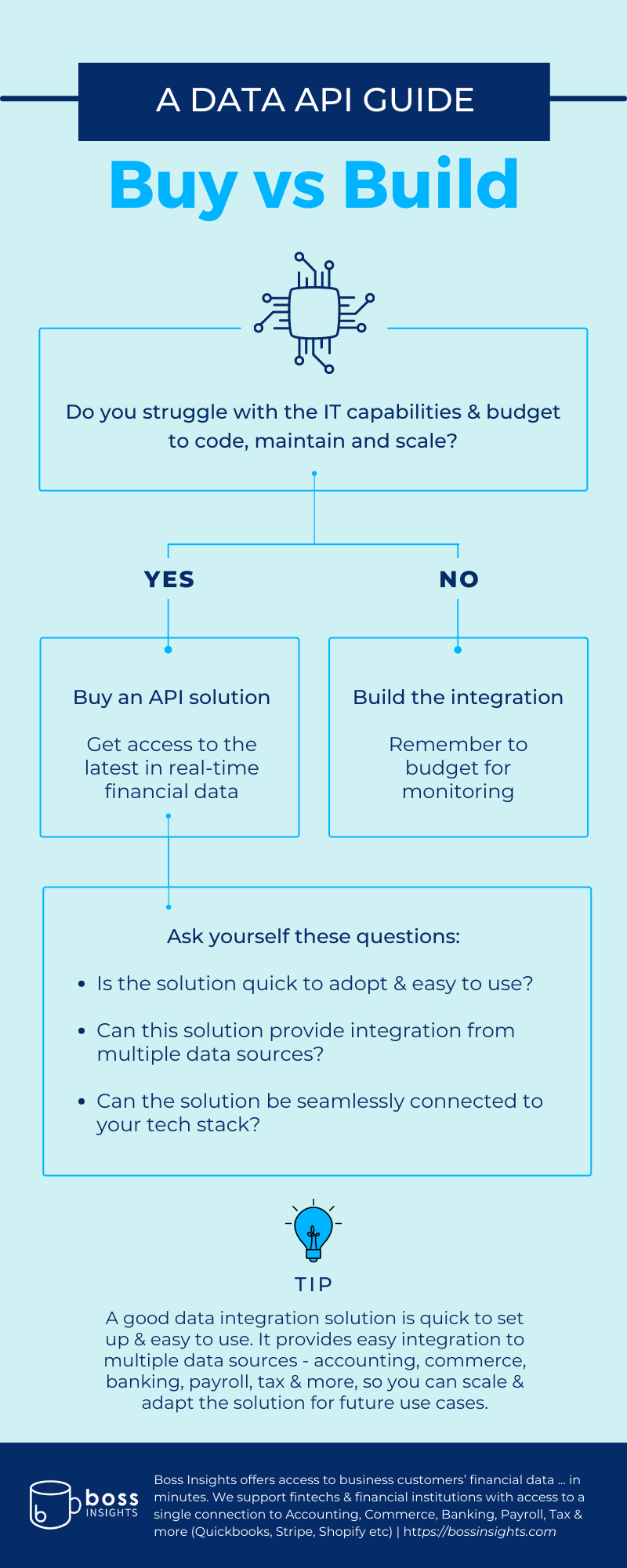 Boss Insights provides fintechs and financial institutions access to business customers' financial data … in minutes. It's a single connection to access real-time accounting, commerce, banking, payroll, tax data in addition to business insights.
The solution takes only one hour to set up with no coding required and is easy to use with automated, configurable, and normalized information. Boss Insights integrates thousands of cloud-based data sources allowing for the greatest usability and applicability in the market. From financial ratios, balance sheets, P&L statements to third-party verified and alternative data, Boss Insights allows you to easily make informed decisions and understand your business customers' needs in real-time so you can serve them better.
Fintechs and financial institutions like CCBank, First Savings Bank, Sound Credit Union and Seek Business Capital who used Boss insights have proven 5 times faster decisions, 36% faster approvals and 60% cost savings. Read the case studies here.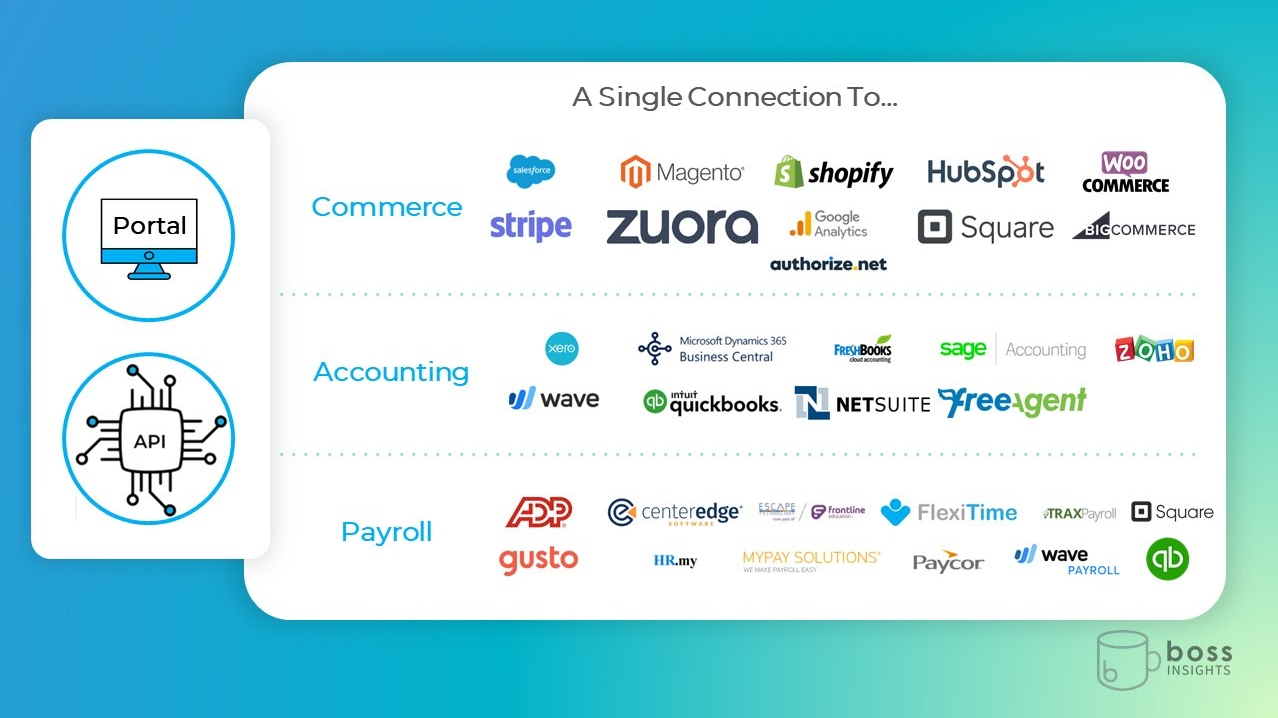 Having real-time access to your business customers' cloud-based financial data empowers you to gain a holistic view of their financial health and better understand their needs so you can offer them the best products and services in the market. Gathering this information seamlessly enhances your customer experience which in turn translates into customer loyalty and brand advocacy. By partnering with best-in-class data integration providers like Boss Insights, you accelerate your product and service's speed to market, empowering you to compete and win.
To learn more, reach out to us here.