The past few years have cemented the role of digitization in the survival of businesses. A review titled COVID-19 Crisis and SMEs Responses highlights that the health crisis has caused 43% of small and medium enterprises (SMEs) in the United States to temporarily close their physical stores. This big change has pushed small and medium-sized businesses (SMBs) to use digital tools to interact with clients, report their sales, and change their operations.
SMBs are changing to better support and serve their clients. So why aren't financial service providers doing the same for their SMB customers? Though the health crisis is getting under control, the business banking industry continues to fully adopt digitization to service businesses, but not well enough.
This is not a new story – "Banks Must Adopt APIs for Business Lending or the Fintechs Will Win" is a piece that The Financial Brand published in 2020. This article highlights how during the first round of PPP (Paycheck Protection Program), banks and credit unions without APIs were unable to collect information fast enough to support new businesses. These businesses turned to fintech lenders, such as Paypal and Square. The loss for these banks and credit unions became fintechs' profits, as Square gained 60% more customers and processed $820 million across 76,000 PPP loans.
And yet – with all this change, business loan applicants are still disappointed with the lack of digitalization in the industry. Smarter Loans' 2022 study found that 81% of business loan applicants feel that there is room for improvement in the loan process, and highlighted Boss Insights for moving the industry forward. Forbes' Ron Shevlin highlighted Boss Insights for improving business lending, by solving one of the hottest banking technologies – digital loan origination.
With Boss Insights fintech, private lenders, and financial institutions can embrace digitalization to accelerate financial services to business clients. The results of moving from manual to digital processes are staggering. Decisions speed up 36%. Renewals speed up 500%. Costs decrease by 60%! Interested in achieving these results for your SMB and business customers? Here are three ways to achieve these results:

Leverage Digitization in Making Data-driven Decisions
Every loan request starts with a business needing capital. The capital provider can be a fintech, private lender, or financial institution, like a bank or credit union. The next step is always the same – if a business requires money, the financial service provider needs their financial data to make sure the business will repay the loan. There are two ways to do this:
Manually gathering and calculating information – this is the slow way.
Digitally get the information in real-time – this is the fast way.
The best-in-breed technologies will not only gather this information but will manage and analyze it. This is crucial for the success of you and your SMB customers. With access to SMBs' financial data, like accounting, commerce, payroll, and tax data, you can make data-driven decisions.
Cloud Accounting
Cloud accounting is online cloud-based software that allows businesses to digitize and store their accounting in an encrypted cloud system. With cloud accounting, businesses scan and digitally store documents such as invoices, bills, tax forms, bank statements, and more. Software like Quickbooks, Xero, and Sage, help businesses track financial data such as transactions and expenses in real-time.
Cloud Commerce
Cloud commerce is online cloud-based software that tracks business transactions, revenue, chargebacks, sales and more. It also helps businesses prepare their state-level and local sales taxes calculations. Software like Shopify, Square, Amazon, and Stripe allow businesses to easily track their financial data in a cloud-based system. They are easier to navigate and record data from than manually created spreadsheets and documents.
These cloud-based systems, accounting and commerce, can all be accessed through Boss API. This API is not just an accounting API or a commerce API. Boss API encompasses those and more by linking you with the global-leading number of SMB financial data sources.
To make sense of this financial data, it needs to be analyzed. Instead of manually entering information into spreadsheets to calculate various ratios, turn that financial data into meaningful insights with Boss Analytics. Boss Analytics takes the financial data from Boss API and automatically calculates real-time business financial insights, cash flow forecasting, and an overall view of business health. Make the most informed decisions about your business customers based on various real-time business insights.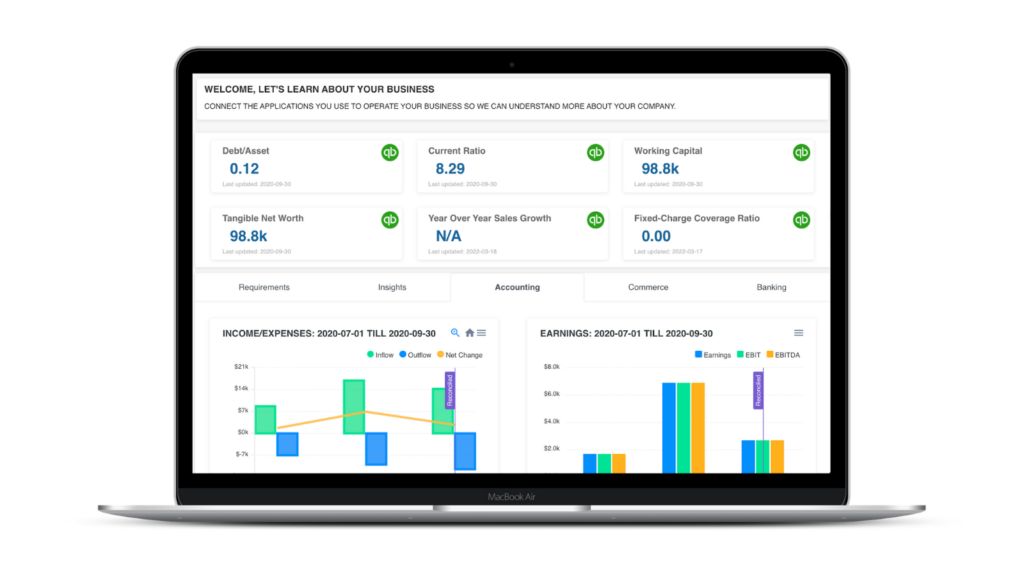 Better Serve SMBs Through Digitalization
Currently, there is a disconnect between what an SMB needs and what a business lender can provide. SMBs owners are expected to go to a business lender and tell them the product they require. However, most SMB owners do not know whether they need a working capital loan, operating loan, term loan, or business credit card.
Instead of telling business owners what products they need, many business lenders have digital applications for business owners to 'find' the products they're eligible for. However, after completing these applications, applicants do not find what product(s) they are eligible for. Instead, they are told to contact a representative. Business customers become dissatisfied and frustrated since they spent time answering questions to not receive any service or straightforward answers.
Since business lenders are the experts on their offerings for SMBs, they should be telling SMB owners what products they need. But how can business lenders do this? With Boss Insights' platforms, financial service providers gain access to business insights to know what products SMBs need before they do. Now, business financial services providers can be proactive with product offerings to put 'services' back into 'financial services' with digitalization.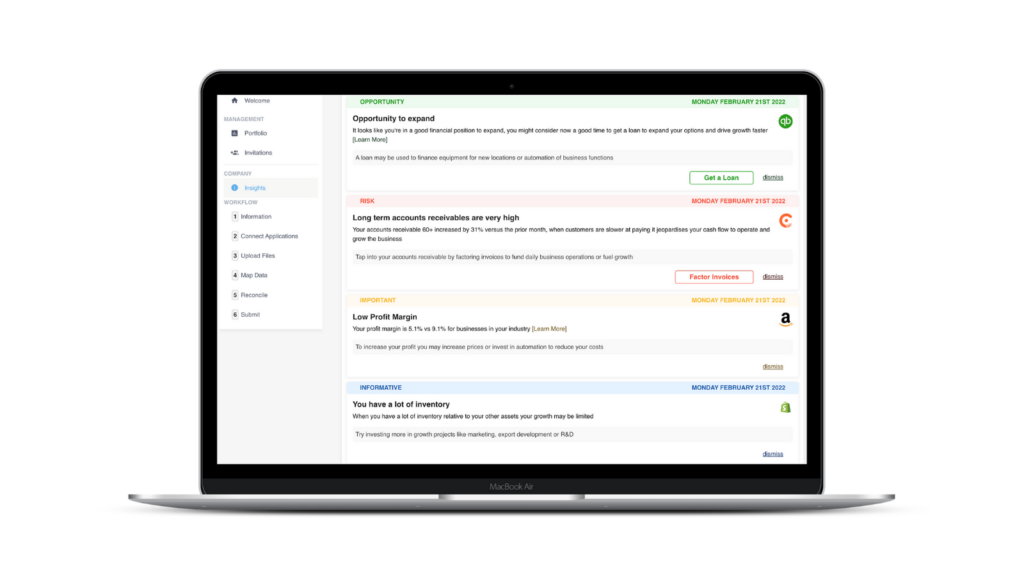 Digitization for Streamlined Business Lending
Every loan request is followed by a series of steps. After a business owner completes a loan application, they have to wait for a response from the business lender. On the other hand, the business lender needs to evaluate the application to determine if the prospective loan applicant is eligible for what they applied for. Sometimes the business lenders need to reach out to the prospective applicant and request more information. Now the lending process is stalled until the business can provide all the needed documentation via email, fax or mail. Forgo this timely process with digitalization.
With Boss Originate, the business lending process becomes streamlined. Boss Originate is a digital loan origination platform that gives business lenders an 'apply now' button on their website. With this platform prospective business loan applicants complete their application online, and find out if they qualify immediately.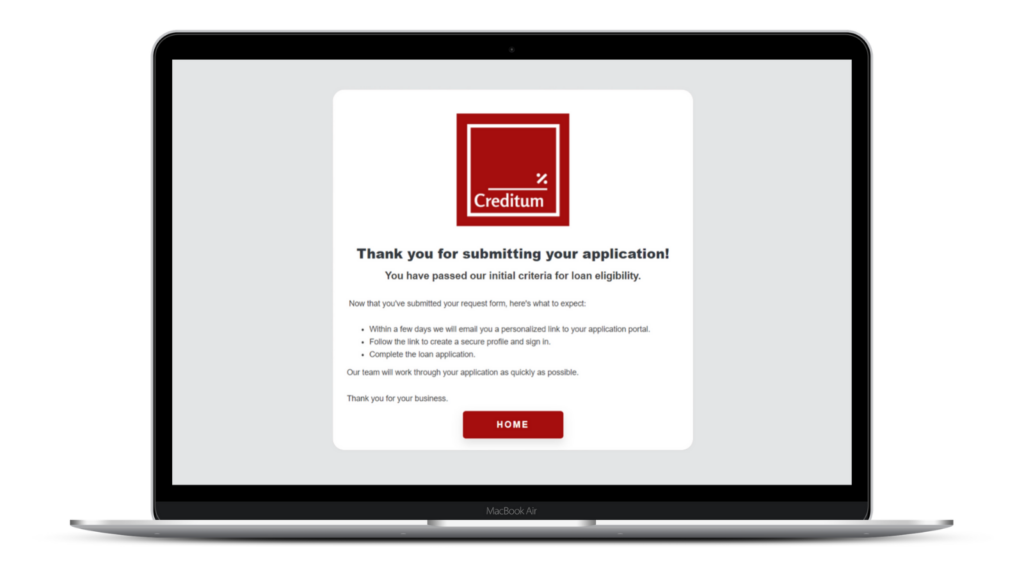 Meanwhile, business lenders also find out immediately if an applicant is qualified. Lenders can keep track of all applicants and see which ones are qualified or not. Now, business lenders can spend less time finding qualified customers, and more time delighting and servicing them.
After a loan has been issued, business lenders need to monitor the loan's status and the borrower's. Is a loan active or paid off? How many loan payments are there? Is the borrower paying their loan installments on time? Instead of using spreadsheets to keep track of all this information, business lenders use Boss Decision & Monitor. This platform enables business lenders to easily manage their portfolios and receive a holistic view of all their SMB customers. Lenders can monitor their loans by tracking loan amounts, statuses, products and more.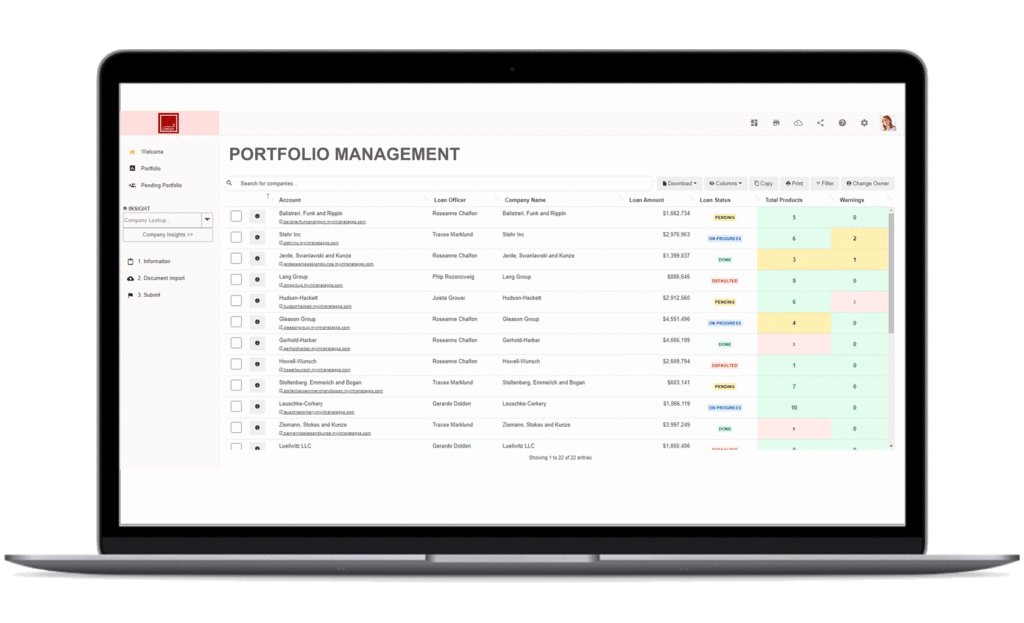 How Boss Insights Can Help
Today commercial and business lending is slow and time consuming. The good news is – it does not need to be. These three ways to digitize become easy with Boss Insights. Boss Insights is an award-winning global leader in open banking, providing global-leading access to business customers' financial data. It's a single connection to accounting, commerce, payroll, tax and more (i.e. Quickbooks, Xero, Stripe, Salesforce, Shopify, Amazon, etc.). Boss Insights works with business lenders (fintechs, private lenders, and financial institutions) so that they can provide faster and personalized product offerings to their SMB and commercial customers.
Want to find out how Boss Insights can help you digitize business loans? Book a demo with us today.